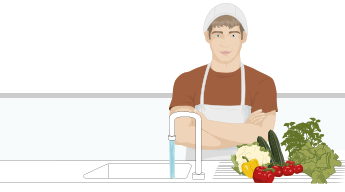 Hygiene in Food Processing Establishments (HACCP)
Infringements of existing hygiene directives in food processing establishments can have far-reaching consequences for employees, consumers and the business itself.
Particularly in recent years, reports of food scandals have regularly appeared in the media, harming the image of the business in question and creating financial damage. These risks can be minimized by an appropriate instruction of your employees.
Food processing establishments are obliged to carry out their own inspections as part of the HACCP system. Furthermore, in addition to an initial instruction of all employees, they are obliged to implement an annual refresher instruction/update in accordance with the laws in force at the time.